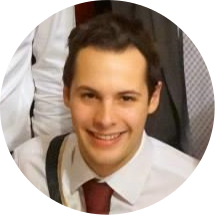 Welcome on my website!
I am a F.R.S.-FNRS PhD, supervised by Vincent Blondel and Julien Hendrickx from 2013 to 2017. Graduated in electrical engineering in 2013 at the Université catholique de Louvain, I am currently working at the ICTEAM research institute in Louvain-la-Neuve.
My PhD thesis focuses mainly on online network identification in Big Data – i.e massive datasets – and on opinion dynamics in small groups. More particularly, I am working on crowdsourcing experiments, MOOCs and on ideological scaling of social networks' users
In addition to my Data Science interests, I am spending most of my time investigating Mentalism Experiments, a hobby that I have for more than 20 years. Feel free to discover more on https://thementaldoctors.com/ .
I would also advise you to visit my sister's website http://cvk-design.be/ who is an amazing designer.