François Glineur
Research – Publications – Courses – Students
Research interests
Convex optimization

algorithms (first-order methods and interior-point methods),
modelling (approximations, extended formulations) and duality,
applications of optimization in general.

Nonnegative matrix factorization

algorithms and complexity,
nonnegative rank and applications,
numerical linear algebra in general.
Publications
An up to date list of publications can be found on
Google Scholar
or on the
UCLouvain institutional repository
. Some recent preprints can be found on
arXiv
.
Courses currently taught
Research group: current and former PhD students, postdocs, and master students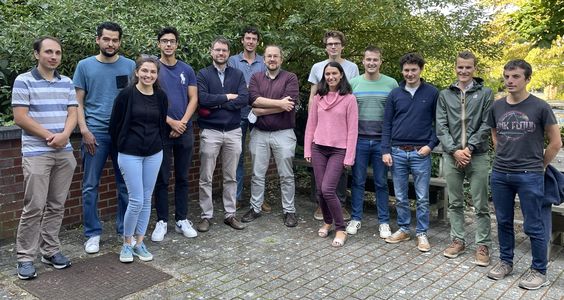 Research group in 2021 (picture with
P.-A. Absil
's group -- from left to right: Teodor, Yassine, Hazan, Nizar, Pierre-Antoine, Guillaume O, François, Cécile, Simon, Philémon, Valentin, Guillaume VD, Loïc)
PhD students
Postdoctoral collaborators
Yu Guan (2018-2020, SeLMA EOS project), working on Graph regularized tensor completion.
Sebastian Stich (2014-2016, ARC Big Data and SNF grants), working on Large-scale optimization.
Augustin Lefèvre (2012-2013, IAP Dysco), working on Informed source separation.
Nicolas Gillis (2012-2013, FNRS grant), working on Constrained low-rank matrix and tensor approximations: complexity, algorithms, and applications.
Paschalis Tsiaflakis (2011), Francqui intercommunity grant), worked on Optimization in Wireless MIMO Relay Networks.
Master students
Click here to display students before 2017.
Diego Eloi, Worst-case functions for the gradient method with fixed variable step sizes (2022)
Augustin d'Oultremont, A parser for auto-formalization in education (2022)
Félix de Patoul, Predictive maintenance: predict upcoming failures via machine learning (2022) (with V. Hamaide)
Tomasz Kwasniewicz, Implementation of a semidefinite optimization solver in the Julia programming language (2021)
Nizar Bousselmi, Newton's problem : A smooth minimum method (2021)
Marie Hartman and Alexia De Poorter, Automated estimation of performance of optimization methods (2021) (with J. Hendrickx)
Andres Zarza Davila, Proof of concept of an interactive theorem prover system using natural language input (2021)
Philémon Beghin, A digital tool at the service of organology : validation of a photogrammetric approach (2021) (with P. Fisette, A.-E. Ceulemans)
Fabio Mercurio, Neural networks and gradient boosting for predictive maintenance of a proton therapy machine (2020) (with V. Hamaide)
Olivier De Boeck, Convex optimization with inexact second-order oracles (2020)
Jonas Dubois, Block term tensor decomposition by numerical optimization (2019) (with G. Olikier)
Antoine Daccache, Performance estimation of the gradient method with fixed arbitrary step sizes (2019)
Renaud Lothaire, Characterization of violins : a digital tool at the service of organology (2019) (with P. Fisette, A.-E. Ceulemans)
Guillaume Van Dessel, Stochastic gradient based methods for large-scale optimization: review, unification and new approaches (2019) (with S. Stich)
Brieuc Pinon, Learning through Optimization Programs (2019)
Thibault Etienne, Beamforming of large antenna arrays with nulling using Lp-norms for sidelobe minimization (2018) (with C. Craeye)
Jos Zigabe, Automatic scheduling for EPL lab sessions (2018) (with C. Poncin)
Loïc Van Hoorebeeck, Calibration of the SKA-low antenna array using drones (2018) (with C. Craeye)
Simon-Pierre Cordonnier, Identification of the optimal glass type for building (2018) (with T. Timmermans (AGC))
Virginie Mathy, Industrial Process Optimization: Towards Energy Cost Minimization (2018) (with A. Latiers)
Adrien Brogniet and Charles Ninane, Construction of an Automated Examination Timetabling System for École Polytechnique de Louvain (2017)
Dylan Meynaert, Performance Estimation of First-Order Methods (2017)
Valentin Hamaide, Optimal interference nulling for large arrays of coupled antennas (2017) (with C. Craeye)
Ludovic Fastré, Automatic scheduling for master thesis defenses (2017) (with P. Schaus)
Sébastien Lagae, New efficient techniques to solve sparse structured linear systems, with applications to truss topology optimization (2017) (with Y. Nesterov)
Nicolas Boutet, Developing a symmetrical version of the quasi-newton least square algorithm (2017) (with R. Haelterman (ERM))
Miscellaneous
Link to my
previous web page
which contains links to some course materials and slides for some old talks ...